Strawberries

"Nature cannot be tricked or cheated. She will give up to you the object of your struggles only after you have paid her price."- Napoleon Hill
---
Strawberries!
In the fall of 2003, Seamans' Orchard planted their first strawberry patch. The strawberries are grown on raised beds on top of plastic in nice green grass rows.
The Seamans' Strawberry Patch opens in May. It is difficult to set a definite opening date. We rely on Mother Nature to determine when the strawberries are ripe for picking. Please call to confirm a definite opening date.
Pick-Your-Own Strawberries
Now open!
Phone: (434) 277-8130
For information call (434) 277-8130. Also, follow us on Facebook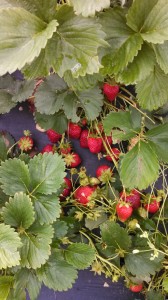 We have pick-your-own strawberries and pre-picked strawberries upon request. We offer containers to use when picking or you may bring your own. Our strawberries are sold by the pound if you pick them and by the quart if they are pre-picked. A price break is given if you purchase a whole flat of pre-picked strawberries (which is six quarts). We ask that you call ahead to reserve pre-picked strawberries.
Seamans' Strawberry Patch Hours:
Monday – Friday: 8:00am – 7:00pm
Saturday: 8:00am – 4:00pm
Sunday: 12:30pm – 5:00pm